Fellow author, LK Rigel, has graciously agreed to share her post about getting your book files from your computer to your Kindle or Nook. Thanks LK!
How to transfer .prc files to your Kindle or .epub files to your Nook
Have you hesitated to take advantage of all the freebies and deals you can get through Smashwords coupons because the process seems daunting? It's true that it will always be easier to buy direct for our Kindles and Nooks, but sometimes it's worth a few extra steps to get a book.
The link to a book at Smashwords takes you to that book's page.
On the book's page, scroll down until you see this menu (click on image to enlarge it):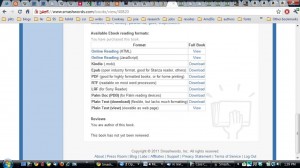 1. Save the .mobi (same thing as .prc) file to your computer. Right click and choose "save as" – it's probably easiest to save it to your desk top.
2. Attach the usb cable to your laptop, then wait for the directory window to come up. The page on your Kindle will change, but you don't have to pay attention to that.
3. Open the "open folder to view files" folder, then open the documents folder.
4. Copy and paste the .mobi (or .prc) file from your computer into the Kindle's directory. Then you can close all the folders and detach your Kindle from the computer. On the Kindle, the regular menu will reappear.
Voilà! the file will be in your Kindle's menu.
1. Choose the .epub file to download by right clicking on it and choose "save as" then save it somewhere easy to find again – either the desktop or create a folder for your downloaded books.
2. Plug the USB cable from your Nook into your computer. It will appear as an additional drive on your computer. Open the directory to that drive.
3. Find the book file on your desktop or in its folder and simply drag it (or copy and paste) to the open directory.
Voilà! the file will be in your Nook's menu, and you can close the directory and unplug the Nook from your computer.
One nice thing about a Smashwords coupon – you will always be able to go back and re-download your book in all the formats offered, so if you get a different kind of ereader, you don't have to buy the book again.